Candy Cat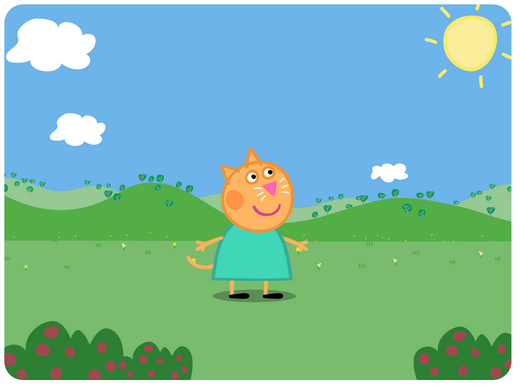 Bio
Name: Candy Cat
Gender: Female
Voice: Tallulah Conabeare
Species: Cat
Age: 4
Family
Daddy: Daddy Cat
Mummy: Mummy Cat
Most asked questions about Candy Cat character
1. How old is Candy Cat?
It is believed that Candy Cat is 4 years old, the same as Peppa Pig and her friends.
2. Who is Candy Cat?
Candy Cat goes to playgroup with Peppa Pig and they are good friends. She is the daughter of Mummy Cat and Daddy Cat. She is an orange cat, wears a turquoise dress and black shoes and is sometimes seen wearing a yellow coat.
Candy Cat is Peppa Pig's friend, they go to the same playgroup. Candy Cat's best friend is Emily Elephant; and she is friendly and kind. Her favourite colour is green, and she loves drinking milk and eating fish fingers.
Candy Cat loves playing dress up. At Peppa's dress up party, she dresses up as a witch. Her costume has a witch's hat, broom and a magic wand; she casts a spell to turn Peppa into a frog. Candy Cat is very good at singing and her favourite nursery rhyme is the cat and the fiddle.
Candy Cat is very good at playing a tiger, she loves tigers because they are big cats. She shows her friends how to creep along quietly and then... jump! Candy Cat loves teaching her friends how to be tigers at the School Fete! When something makes Candy happy, she purrs. The sound Candy Cat makes is: Meow!
Candy Cat is great at skipping and it is her talent in the talent show. Candy loves visiting the aquarium with her family and knows lots about fish. She shows Peppa Pig and her family around the aquarium to find a friend for Peppa's pet fish Goldie.