Danny Dog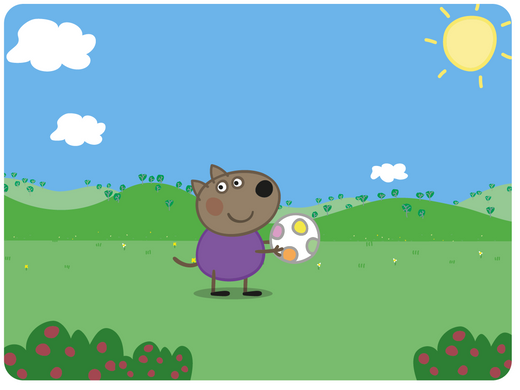 Bio
Name: Danny Dog
Species: Dog
Age: 4 years old
Gender: Male
Voice: Charlie Stewart
Family
Mummy: Mummy Dog
Daddy: Captain Dog
Grandfather: Grandad Dog
Most asked questions about Danny Dog character
1. How old is Danny Dog?
Danny Dog is 4 years old and celebrates his birthday with a pirate themed birthday party with all his friends. They go hunting for treasure with Grandad Dog.
2. How tall is Danny Dog?
Danny Dog is 3'9" (3 feet, 9 inches) the same height as Peppa Pig.
Daniel "Danny" Dog has brown fur/skin, short ears, a black nose, a purple shirt and black shoes. In "The Poppies and Puddles" episode, he is wearing a shirt that is the same colour as Emily Elephant's skin and a cream fedora-like hat.
Danny Dog has an active imagination, he is good at acting and is always on the move. He loves football and pirates. Danny Dogs best friend is Pedro Pony.
Danny loves helping Grandad Dog in his garage. When he grows up, he wants to be a sea captain like his dad. Captain Dog is often away at sea, he is sometimes away for a year. Danny misses he dad when he is away and is pleased when he comes back home. Captain Dog loves to travel. He has great stories about his adventures at sea. He brings back presents for everyone. On one of his trips he brings back a loud drum for Danny from a faraway jungle and some seashells for his friends.
Sometimes Granddad Dog takes Danny out on his boat. He is a sailor like Captain Dog. Occasionally they run into Grandpa Pig on his boat when he is babysitting Peppa and George. You can ride Grandpa Pig's boat at Peppa Pig World.