Mr Raccoon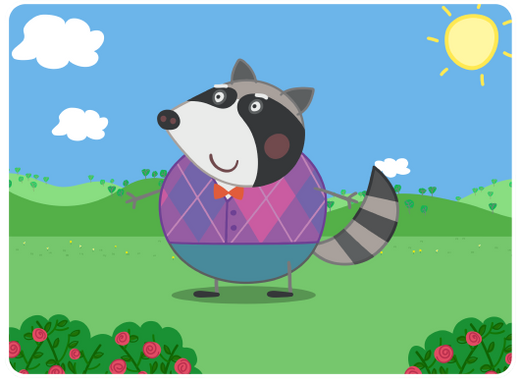 Bio
Name: Mr Raccoon
Gender: Male
Voice: Orlando Bloom
Species: Raccoon
Who is Mr Raccoon?
Mr Raccoon works in a jewellery shop. He will appear in the forthcoming 20th anniversary three-part special where he will help Mr Bull and Mrs Cow choose rings for their wedding day.
What does Mr Raccoon look like?
Mr Raccoon is very smartly dressed, with an orange bowtie, teal trousers and a fetching tartan waistcoat.
When will we see Mr Raccoon?
We will get to meet Mr Raccoon in special 20th anniversary episodes due to be aired in Spring 2024.
Who is the voice of Mr Raccoon?
The voice of Mr Raccoon will be provided by Pirates of the Caribbean star Orlando Bloom.
Visit Peppa's Theme Park
and meet her family and friends… Peppa Pig World is part of the Paultons Family Theme Park and included in all entry tickets.